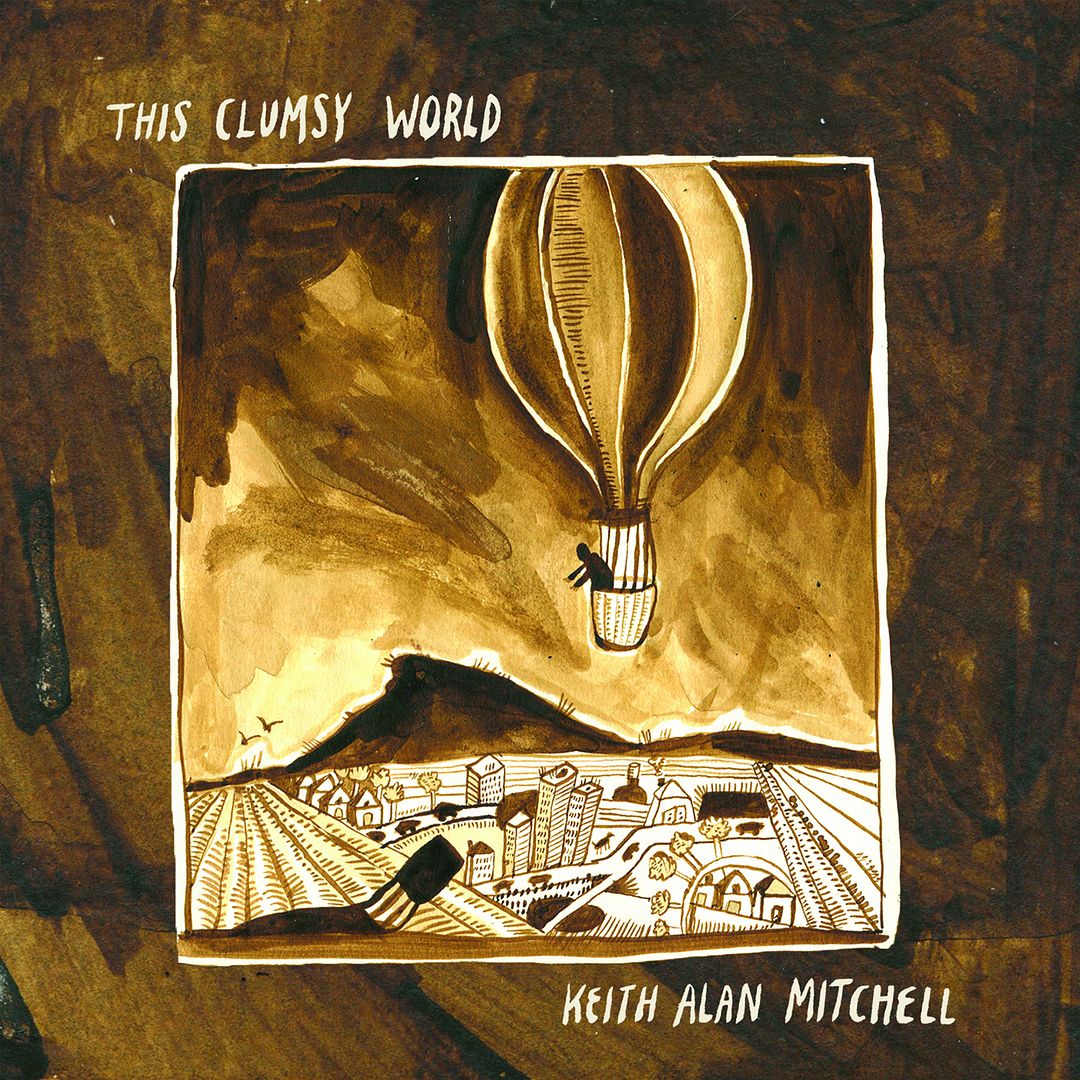 After a week's hiatus, monoblogue music is back with this forthcoming release.
From the opening notes of Keith Alan Mitchell's upcoming solo debut called "This Clumsy World" it's apparent that the singer-songwriter is at home in the realm of rural American music. That seems a little unusual for a songwriter based in the San Francisco Bay area, but given his Ohio roots it made a little more sense.
Yet while one would think this would mainly be an acoustic set based on the opener Been Buried, that reality is that only one other song, the final track Our Eyes, is of a similar nature. Instead, the majority of tracks have a country feel to them, particularly in the ballads Crossed That Line and Swaying. That song, the album's longest, features backing vocals from Kathy Kennedy and seems like the song one would punch up on the jukebox just before closing time, when those looking through the beer goggles are seeking someone with whom they'd forget the world until morning.
On the other hand, the more upbeat songs like You Just Disappear or Diamond Blues show some lyrical dexterity as well. The latter is a definite toe-tapper.
A more conventional arrangement is found in Tavern Angeline, which revives the age-old theme of hanging out at the neighborhood bar, albeit with a different musical style (and without its tone of desperation) than say, Don Henley's Sunset Grill. Mitchell sticks with a full band on the next track, The Feud, and to me that is the highlight of the collection as it reminded me of early CSNY stuff. It's sort of a dark song, but the piano fade somehow works there as well. And The Low Way works well lyrically as a tribute to the working man.
Being a self-produced effort, though, there are a couple instances where another producer may have improved a song. This is true with Next Time and Every Every, which to my ear have some minor flaws in their arrangement. On balance, though, it's a reasonably well-crafted collection.
I thought the choice of title was a little strange, as "clumsy" is a world seldom used in this day and age. But the title comes from the lyrics of What It Means To Soar, as Mitchell explained on his website blog:
I started crossing off ideas I didn't care for and there right in the middle of the list remained "This Clumsy World" – a line from the chorus of "What it Means to Soar." I have to admit, I can't remember if I decided while I was in LA, or if I stewed on it for a while longer. But the more I thought about it, it seemed like the perfect title.

I think an album should create it's own "world." It should be self-contained and take the listener somewhere – and be interesting and engaging enough that you could sit in front of some speakers and have this experience of going somewhere else, hearing about someone else's problems – real or fictional – rather than dwelling on your own, and give you a feeling. Hopefully many feelings.

But it's also clumsy – because the world itself is an imperfect place. Things don't often go exactly how we want them to, if ever, and rarely are they elegant. Yet it's the imperfections that make people unique, and randomness plays a huge role in most peoples' lives – as much as we might not want to admit that.
The album should appeal most to those who like acoustic music, although the tracks with the enhanced band tend more toward country or country-rock.
On June 20 Mitchell is planning his CD release show in San Francisco, but hasn't laid out a tour to support the album yet. As always, I think you should listen for yourself but if you think it's worth your effort to buy, perhaps he'll be inclined to follow.
Update: I received an e-mail from Keith thanking me for the review, and in it he mentioned that Tavern Angelina was inspired not only by Sunset Grill (which was an uncanny coincidence because that was the song I thought of while writing the piece) but also the fictional bar the dockworkers frequented in season 2 of "The Wire." He has a bit of a connection with the Baltimore area, as some of his family lives in Glen Burnie.